February Doldrums Banished! February 23rd 10-5
February 23, 2019 @ 10:00 am

-

5:00 pm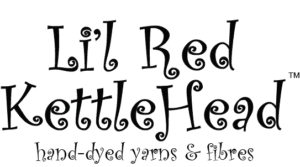 Join us for a great day with Paula from Little Red KettleHead!!
She will be brings trunk loads of her fabulous hand dyed yarns in many weights and fibres.
Here is a little bit about Paula:
Long time Knitter and novice Spinner, Paula fell down the rabbit hole of dyeing more than a decade ago, evolving through experimentation and personal study. Dyeing yarns and fibres is one of the most freeing pursuits she has ever done, satisfying both her analytical and creative sides. She puts few restrictions on herself, so colourways change often. Life is too short to choose only a few!
About 5 years ago, a request for commission dyeing led to a partnership with Kerstin at Alpaca Avenue, working on locally and commercially prepared Alpaca yarns, and eventually expanded into a range of socks yarns for her shop. 2019 sees a new chapter in the evolution of Li'l Red KettleHead. She hopes you find inspiration in her offerings.
Here is a small sampling of some of her beautiful yarns.