KAL with Brigit: Not so Mini Mini's- Sept. 21st and Oct. 5th, 11-2
September 21, 2019 @ 11:00 am

-

2:00 pm
Knitting Accessories with Not so Mini Minis.
We have all seen them, the multitude of projects knit with mini skeins of yarn. These minis are often sold in tiny 100 yards or less skeins. But what if the project you want to knit takes just over 100 yards? I found this to be the case with The Crown Wools by Casapinka. The 100 yard minis I purchased were just shy of what I needed. But then I discovered Drops Baby Merino which comes in 50 gram balls/191 yards, and in a multitude of colours. Now I have more than enough to knit The Crown Wools Scarf and something else. That is when I discovered BMC (Betty Mouat Cowl) by Kate Davies. This cowl is the perfect project to use up the left over yardage from my first project. The Crown Wools Scarf requires 12 colours, and the BMC (Betty Mouat Cowl) uses 9. Two great projects from one yarn purchase!
In this class we will knit both projects, in the first class will we start the scarf and in the 2nd class we will start the cowl. Don't worry if you have not finished the scarf. All you need is to have finished a few sections of the scarf so you can start the cowl with the leftovers from your first few colours.
I will also be showing you how to join your colours so that you don't have many ends to sew in once your are finished knitting.
Please bring in 2 colours of yarn in the same weight to practice this technique.
We will also be looking at how to knit garter stitch in the round as demonstrated in the Kate Davies video that comes with her pattern.
This class is 2 – 3 hour classes: Saturday September 21st and Saturday October 5th from 11am-2pm
Materials: 12 balls of Drops Baby Merino for the two projects $83.40, Class Fee $60 ($140.00 for both)
You may purchase the patterns through the links provided below:
The Crown Wools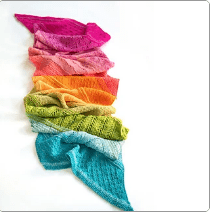 BMC Cowl

For yarn and class:

$140.00Add to cart
Class fee only: