Hexa Hap KAL With Brigit, Dec. 7th and Jan.11th 11-2:00
December 7, 2019 @ 11:00 am

-

2:00 pm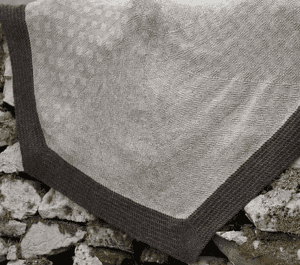 "A hap is a Scottish dialect word for a simple shawl or wrap". from A Book of Haps
I think some of the most beautiful designs are created from the simplest of stitches and the Hexa Hap is just one of these. This 6 sided wrap is constructed by knitting each triangle one at a time and then building off of that triangle by picking up and knitting stitches to form the next triangle. The border and the main body of the shawl are knit at the same time by using an intarsia technique so that the front and the back are totally reversible. This project is designed to help you build new skills as it incorporates intarsia, i-cord edging, short rows, picking up stitches, and the kitchener stitch. It is a larger project but we will work on it one triangle at a time and before you know it you will have a wonderful wrap that could also be used as a lap blanket.
If the full Hexa Hap seems too daunting a task, you can also knit the 1/2 Hexa or the 3/4 Hexa Wrap.
Suggested yarn for this project is Juniper Moon's Patagonia but you could use a number of other sport/DK weight yarns. You will need 1300 yards for MC and 600 yards of CC. (4 skeins for MC, 2 skeins for CC in Patagonia)
The pattern is available on Ravelry as an individual pattern or as an e-book. There are many great designs so if you are interested in knitting other patterns from this book I highly recommend getting the book. There is a large section on the history of Haps and their design too.
Cost: $60+ Materials. The amount of yarn you use depends on which size you do.

$60.00Read more